Apple Pear Fruit Processing Line
Apple Pear Fruit Processing Line
Description
Characteristics
Technical Parameter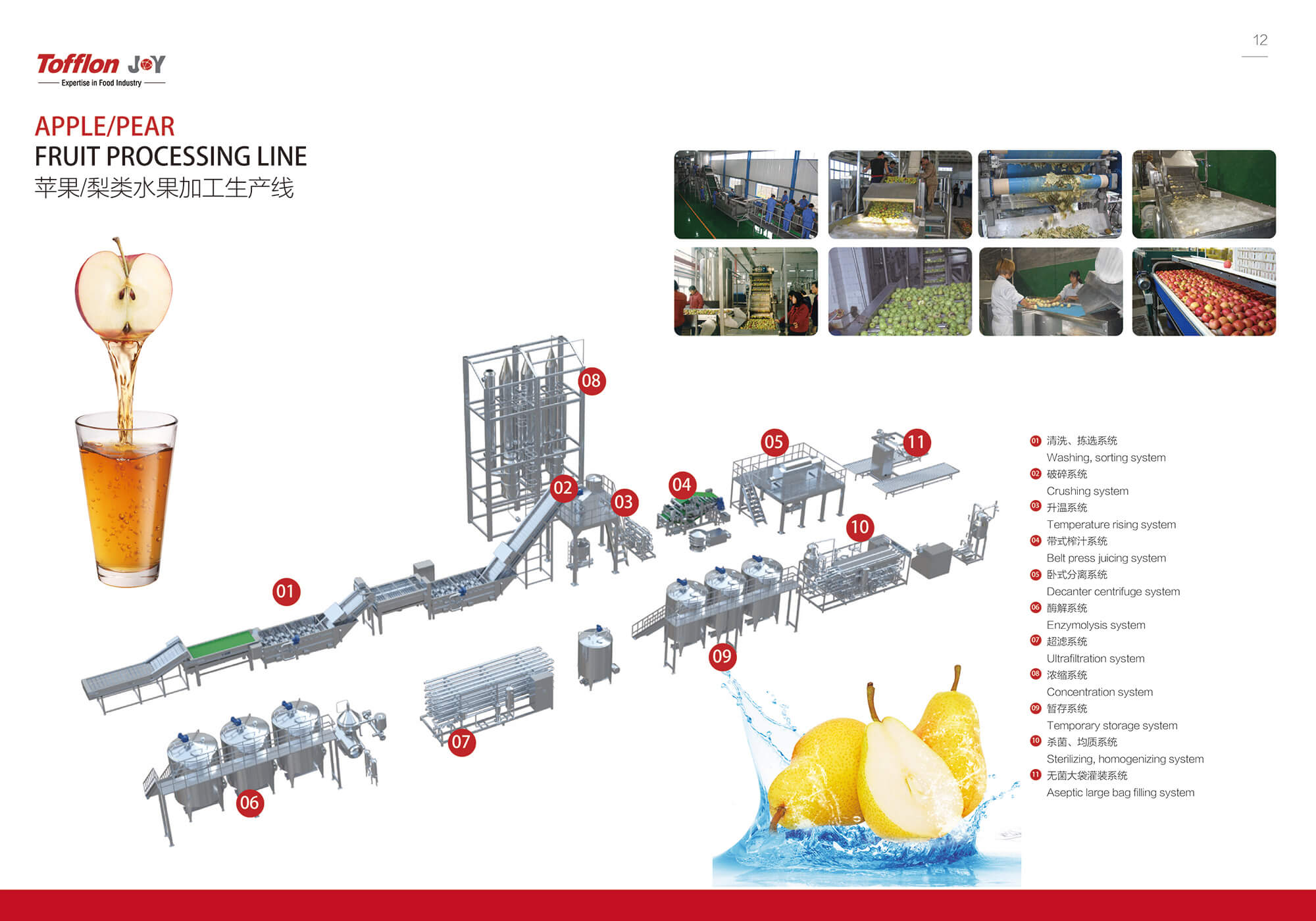 Complete plant of apples and pears processing equipments include washing ,crushing, squeeze extractor, enzymolysis, evaporator, sterilizer, aspetic filling and etc. Tofflon Joy has created apple and pears processing equipments with different functions like crusher, squeeze extractor are simple construction, easy operation, High production efficiency have positioned Tofflon Joy as the Chinese market leader in the worldwide. The end product can be divided into transparent juice, cloudy juice ,NFC fresh nature juice, and concentrated juice.
Auto-floating washing machine with move plate

Belt press machine

CIP system

Clapboard elevator

pulping machine

Surfing washing machine
1. The processing capacity is varied from 60 tons/day to 1500 tons/day.

2. This line can handle similar fruits with similar characteristics.

3. Automatic disinfection liquid concentration control system, effectively guarantee the sterilization effect and control the disinfection residue.

4. Efficient crusher improved the high output percentage of apples and pears.

5. Using efficient belt juice extractor to improve the juice efficiency and the output percentage.

6. The production process fully automatic PLC control to reduce the labor intensity and Improve production efficiency.

7. Low-temperature vacuum evaporation, greatly reduce the flavor substances and nutrient losses.

8. A variety of energy recovery measures , increased the energy utilization and greatly reduce production cost.

9. Tubular UHT sterilizer and Aseptic filling machine, Isolated from the pollution of bacteria,ensure the safety of the food and extend the shelf life of the product.

10. A complete set of production with self CIP system reduce the labor intensity and ensure the high level sanitation.

| | |
| --- | --- |
| Raw material | Fresh fruit apple/pear |
| End product | Transparent juice,cloudy juice, NFC and concentrated juice,cider and cider vinegar etc |
| Processing capacity | From 60tons/day to 1500 tons/day |
| Output percentage | 60-75% |
| Solid content in NFC | 10-12Brix |
| concentrated juice content | 65-72Brix |
| End package | Aseptic bag/gable top box /PET bottle |