Citrus Fruit Processing Line
Citrus Fruit Processing Line
Description
Characteristics
Technical Parameter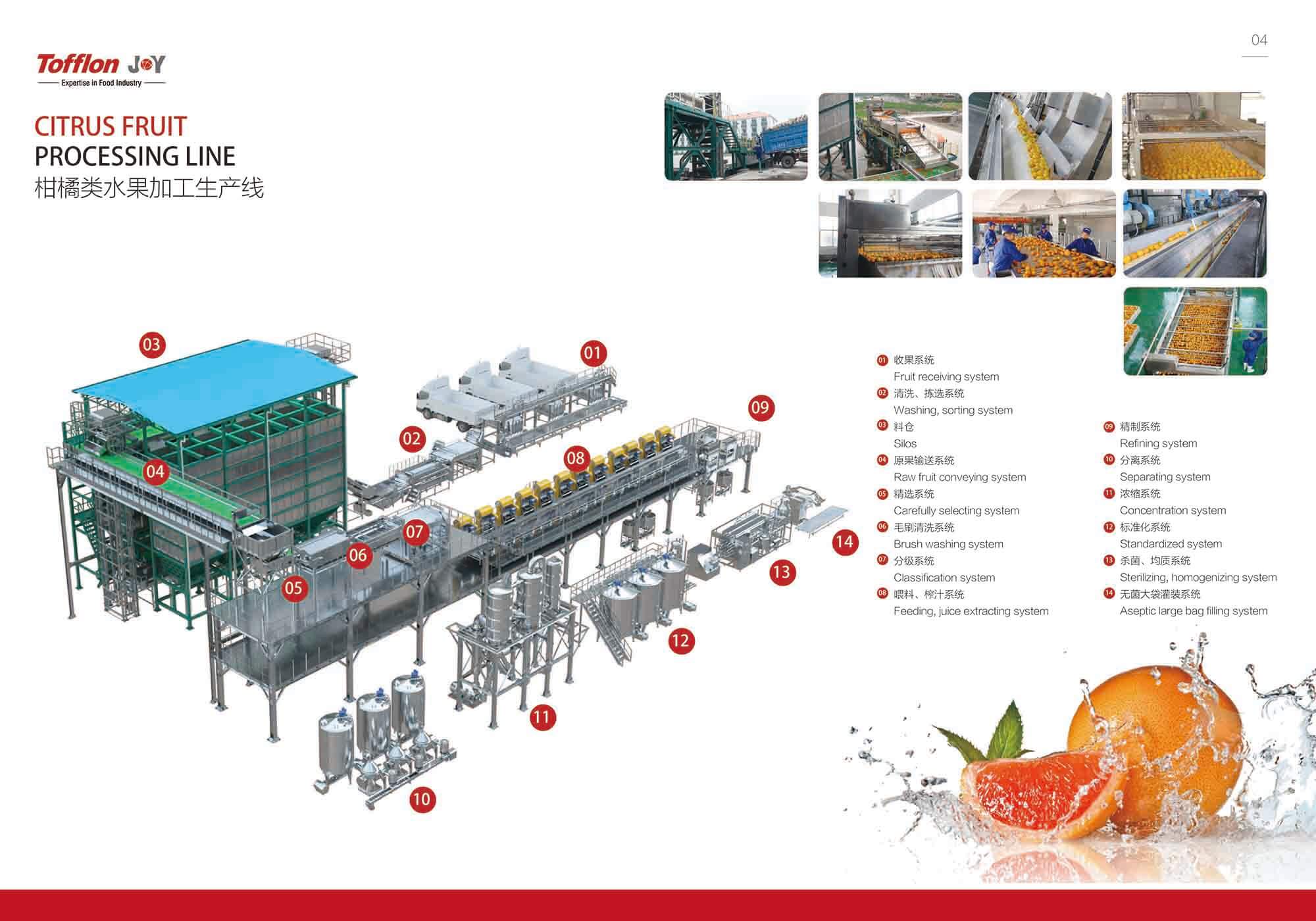 Shanghai Tofflon Joy produces turnkey solution for citrus fruit processing line and equipment for the global market. Our Citrus Extractor is the heart of citrus processing system and we are the industry leader in citrus extraction technology in China.

For citrus fruit processing line, we are committed to developing innovative equipment to improve the entire operating efficiency, decrease downtime period due to maintenance and reduce capital investment greatly. Customized design is available based on the investment and actual production situations of enterprises, realize real turn-key project for customer.

Configuration of the Citrus Fruit Processing System depends on the production capacity and type of products you are looking to produce. Typical products include fresh or Not-From-Concentrate (NFC) juice, juice concentrate, citrus pulp, essential peel oils, and dried peel.
Brush washing machine

CIP system

Falling film evaporator

Roller brush washing machine

Roller conveyer

Sterilizer
1.Wide range of raw fruits are available such as: citrus, lemon, orange, pomelo, grapefruit etc.

2.According to different requirements for the end products, with different functions,for example: debitterizing, deacidification, oil refiner, evaporation etc.

3.According to different investment and product structure, client can require average, middle level or high level processing equipments.

4.End product with pure flavor, bright colour, and high output percentage.

5.Whole line with features as high level automatical, low labour intensity, easy operation, safe function and low operation cost.

6.Whole line adopt sanitary design, can be cleaned thoroughly, with high level sanitation.
| | |
| --- | --- |
| Raw material: | Fresh Orange, Lemon, Citrus, Pomelo, Grapefruit |
| End product: | NFC Fresh Nature Juice, Concentrated juice , oil, orange Pulp, cyst |
| Production capacity: | 20T/D-2000T/D |
| Output percentage: | ≥90% |
| Solid content | 7~12Brix |
| End products package: | Aseptic Bag/Aseptic box / glass Bottle/pet Bottle /gable Top Box |